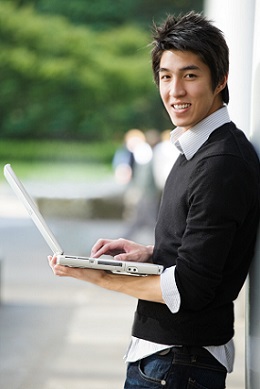 Nowadays many students are interested in online occupational therapy programs. Online occupational therapy assistant programs are not complete, to obtain the required OTA associates degree necessary to become a certified OTA some in-class and fieldwork time will be required. However, some OTA courses are offered online through ACOTE accredited OTA schools.
Although hundreds of accredited OTA programs exist, not all of them offer an online component. Here we will share what you need to know about online OTA programs (and how to find them) so you can determine the best program for you.
OTA schools, both online and traditional, consist of a 2 year ACOTE accredited associate degree program that prepares students to sit for the Certified Occupational Therapist Assistant (COTA) Exam put on by the National Board for Certification in Occupational Therapy (NBCOT). In the U.S. all states require that OTA's graduate from an accredited program and pass the COTA Exam in order to obtain their state OTA license for employment.
Certified Occupational Therapy Assistant Schools Online
Aside from, and possibly more important, than prepping students for the NBCOT's COTA Exam, occupational therapy assistant online programs include clinical and practicum training that provide students with the skills and knowledge to become successful occupational therapist assistants. This hands on training will still be required in addition to any online occupational therapy programs. Just because you choose to become an OTA online, doesn't mean you sacrifice hands on experience.
Below is a list of just a few of the top online occupational therapy assistant schools which offer distance learning coursework online to OTA students. Keep in mind that all online OTA programs are hybrids, meaning they are only partially online and require some classes to be taken in person. For example, every OTA school will require students to complete their clinical trials in person.
Remington College – Campuses in 10 states
St. Catherine University – Located in California & Virginia
Roane State – Located in Tennessee
Brightwood College (formerly Kaplan University) – Located in Dallas, TX
Virginia College – Located in Richmond, WA
Also, take a look at our complete database of accredited OTA schools in the country, many of these offer online courses as well.
Keep reading to learn more details about the specifics of hybrid online OTA programs so you know exactly which portions will be required to complete in person in order to obtain your occupational therapy assistant degree online.
Hybrid Occupational Therapist Assistant Schools Online
Most of the OTA programs online are hybrid programs with online coursework and some classroom lectures. Also it is important to keep in mind that with any OTA program, approximately 25% of the curriculum consists of live practicum and clinical experience that cannot be done online.
On average, OTA students will spend about 16 weeks in a full time setting working at a clinic. Keep this in mind as you are researching OTA programs online so that you can plan for your local clinical work and identify a clinic that you could work in for your practicum, as it is required in order to obtain your occupational therapy assistant degree online.
Compare Local OTA Programs in Your Region
---
OTA Program Goals
The primary objective of any OTA program is to graduate educated, knowledgeable, capable, self-confident, and adaptable care providers. The curriculum and education provided by OTA schools will prepare OTA graduates to work in a variety of OT settings. This is no different whether you get a traditional education or become an OTA online.
Although an OTA will perform their duties under the supervision and instruction of a licensed Occupational Therapist, education is still critical to any OTA's success. OTAs will need to be able to perform their jobs at a high level in a safe, ethical, legal, and most importantly effective manner.
Communication will be one of the most important skills for any OTA, and during OTA school teachers will focus on teaching students to effectively communicate with team members. This will directly translate to student's careers and help graduates communicate effectively with other health care and occupational therapy associates that they work with while serving patients.
Specific skills will be taught to help OTAs learn to communicate effectively with patients, family members, and other health care givers. OTAs will need to be able to work cooperatively in order to be successful. OTA program graduates will be equipped to assist Occupational Therapists in communicating with other health care providers while offering support for patients, families, and caregivers across individual, cultural and economic differences.
As stated, communication skills are just as important as technical skills and book knowledge for an OTA to be successful. So, expect to develop your social and communication skills heavily throughout occupational therapy assistant school.
Occupational Therapist Assistant Schools Tuition and Fees
By now you are probably asking how much an OTA program costs on average. In 2012 the American Occupational Therapy Association (AOTA) published the following data in their survey:
Private OTA School, Mean Annual Tuition: $15,745
Public In-State OTA School, Mean Annual Tuition: $7,325
If occupational therapist assistant programs sound too expensive for your budget, then contact each OTA school you are considering directly. Ask the admissions office about financial aid opportunities to see if you can get the program cost down to something affordable for your budget.
Before you give up due to the cost of education, make sure you research OTA salaries in major cities across the country, so you know what type of compensation and reward to expect after you get out of school. OTAs are paid very well when compared to other associate degree holding health care providers.
So, what are you waiting on? Get started getting your occupational therapy degree online today!