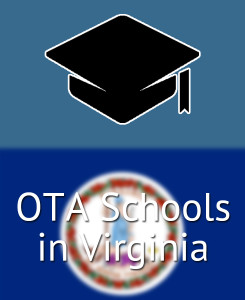 Virginia currently provides 7 occupational therapist assistant programs that are located at ACOTE accredited OTA schools. In order to get your state OTA license to work, you will need to graduate and pass the COTA Exam put on by the NBCOT. Below is a table of all of the OTA schools in Virginia, click on them for more details and OTA program contact info.
More OTA Info for Virginia:
See OTA Schools by state
See Online OTA Schools
Accredited OTA Schools in Virginia
Comparing OTA Schools in Virginia
While researching potential occupational therapy assistant schools, you will want to compare some specific things amongst each program. Collect the following details about each OTA program when researching so that you can compare and make the best decision:
How big the college, student body, campus, and OTA program are
The percentage of students that graduate, % of OTA students that complete the OTA Program, and the passing rate for the COTA exam
What is offered in terms of campus and facilities, the faculty to student ratio, and quality of faculty
Complete information on all expenses and financial aid
Specific admissions criteria for the OTA program
You will want to talk to admissions officers, current students, and the OTA program director to get insights into the programs you research. Ask them who hires there graduate as well so that you can reach out to employers and alumni to ask them about their experience as well.
More OTA Info for Virginia: