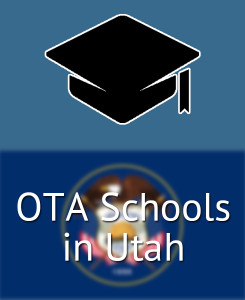 This page contains complete information on OTA schools in Utah.
Utah only offers 1 OTA program at an ACOTE Accredited OTA school. Graduating from an OTA program is required in order to sit through the NBCOT's COTA Exam to obtain your state OTA license.
Click on any of the OTA schools in Utah below for more details and program contact info.
See OTA Programs Near Me
See Online OTA Programs
Accredited OTA Schools in Utah
Salt Lake Community College OTA Program
Physical Address
Occupational Therapy Assistant Program
Mail Code: JHS 3491 W. Wights Fort Road West
Jordan, UT 84088
Phone Number
(801) 957-6407
Website Address
www.slcc.edu/ota
OTA Program Contact
michelle.tuitupou@slcc.edu
OTA Program Accreditation
Program Accreditor
The Accreditation Council for Occupational Therapy Education (ACOTE)
OTA Schools Near Utah
In addition to the programs in Utah, states surrounding Utah have great occupational therapy assistant schools to choose from. So, checkout the following states if you are interested in studying out of state to get your education.
Researching OTA Schools in Utah
When comparing OTA schools in Utah you should consider the following criteria for each college or unviersity.
While researching occupational therapist assistant schools keep the following in mind:
Student body, Campus, and OTA Program size
Passing-rates for entire college, the OTA program, and the COTA Exam
Over all quality of faculty, facilities, and campus
Total breakdown of expenses and financial aid
All admissions criteria
Try asking the admissions office which local employers hire their graduates, talking to alumni and employers is a great way to get important insight about any OTA program.
More OTA Info for Utah:
Apply for OTA license in Utah
Research OTA Salary in Utah
Click on schools below to learn more about their programs
[qs_listing areaofinterest="PHYSICAL-THERAPY-ASSISTING"]