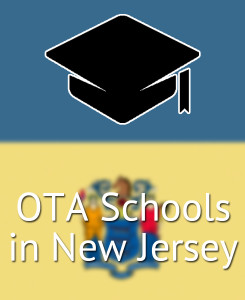 New Jersey is the home of 2 OTA Programs that are offered by ACOTE accredited OTA schools. The table below contains links to more details about these occupational therapist assistant schools including program director contact info. Graduating from an accredited program is required in order to take the COTA Exam and obtain your state OTA license.
More OTA Info for New Jersey:
See OTA Schools by state
See Online OTA Schools
Accredited OTA Schools in New Jersey
Comparing OTA Schools in New Jersey
It is important to research and compare occupational therapy assistant programs before choosing the school for your OTA education. Here is a list of criteria to consider when comparing schools:
How big the program and college are (Campus size and how many students?)
Graduation rates and COTA Exam passing rates
Campus, building, lab, and resources quality
List of expenses and financial aid
Any unique admissions criteria
While you are gathering information on OTA schools, a great resource are alumni and employers that hire graduates from the schools you are considering. Usually admissions officers can point you in the right direction to a few local companies that hire their graduates so that you can survey them for info about the school.
More OTA Info for New Jersey: