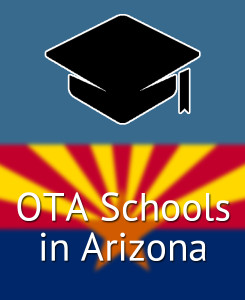 Arizona has 4 ACOTE accredited OTA schools. Successful completion of an accredited OTA program is required in order to take the National Board for Certification (NBCOT) Certification for Occupational Therapy Assistants (COTA) Exam and get your state OTA license. Below are the 4 accredited OTA Schools in Arizona, click one to learn more about the OTA program.
More OTA Info for Arizona:
See OTA Schools by state
See Online OTA Schools
Accredited OTA Schools in Arizona
Selecting a OTA School in Arizona
There are a number of factors to consider when selecting Occupational therapist assistant programs. Here is a quick list of a couple of the most significant considerations to keep in mind as you research for your OTA program:
OTA School size
Pass-rate of the ACOTE test
Classroom and labroom resources
University costs and opportunities for financial aid
OTA School admittance requirements
While you bring all these Occupational therapy assistant program things into thought, it can be beneficial to talk with current students as well as recent graduates of the OTA schools of curiosity. Also, interviewing firms who have actually hired these graduates may provide you more insight to each programs strengths & weaknesses.
More OTA Info for Arizona: