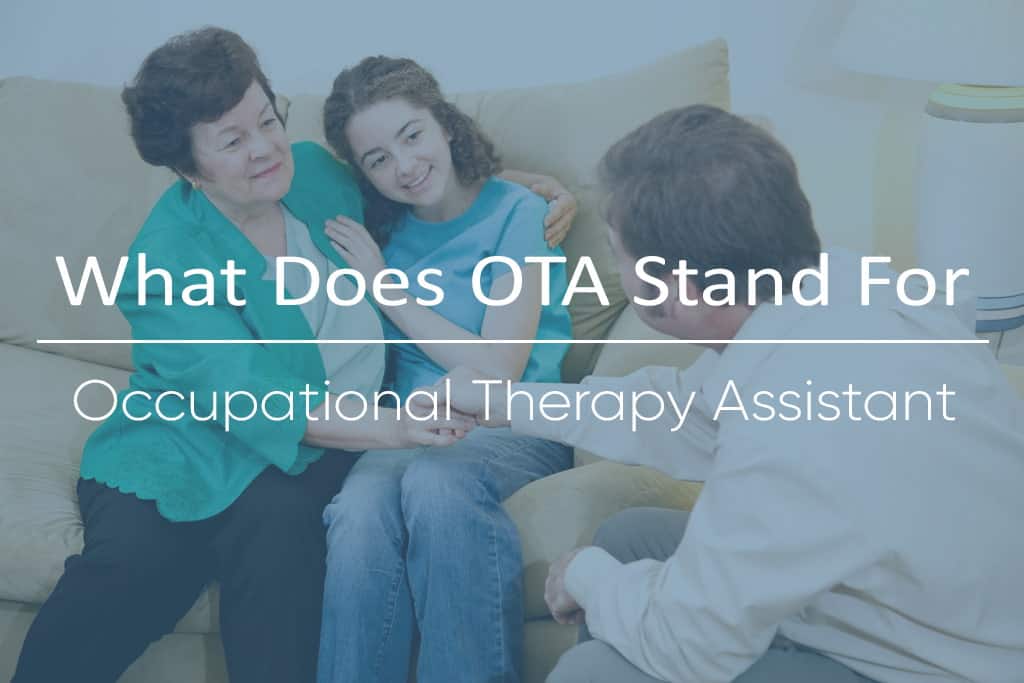 There are some terms that you may have heard thrown around from time to time that goes undefined. Somehow, it seems like everyone already knows what they mean, which is often the case for OTs and OTAs.
If you've been wondering what an OTA is, you're not alone. To help make things clearer, we've put together a full guide defining the term OTA and laying out the basics of the job.
In short, an OTA is an occupational therapy assistant. Occupational therapy is a broad field that we will explain in detail as we move through this guide. We will also cover some of the practical activities associated with occupational therapy, how to become an occupational therapy assistant, and the average salary range for an OTA.
If you think that a career in occupational therapy might be for you, read on to find out more!
What Does OTA Stand For?
As we mentioned earlier, OTA stands for occupational therapy assistant. An occupational therapy assistant is somebody who works alongside occupational therapists or OTs to aid the therapist and patient during occupational therapy.
The OTA works closely with the lead therapist as they assist patients and provide patient care. Often, the OTA is involved in the process of planning the recovery or care path for a patient who is in occupational therapy. This role might involve developing a keen understanding of the patient's goals as well as the obstacles that stand in their way. Then, the OTA might develop a plan by which the patient can overcome these obstacles to achieve their goals.
What Is Occupational Therapy?
Occupational therapy is a broad field. It is a branch of health science that deals largely with people who face obstacles or impediments when engaging in everyday activities. These obstacles might be related to an injury, a disability, or an impairment.
In the sense that it is used here, the word "occupation" simply refers to any activity. Occupational therapists might help people who want to work, socialize more effectively, shop at the grocery store or mall, or participate in a hobby. They might also help people who want to continue to live at home or in the community independently.
Occupational therapists are the primary health professionals who work in this field. Typically, OTs have a master's or doctorate. They might also have a degree in a related field of health or social work.
Occupational therapy is connected to a range of other fields, such as physical therapy, speech therapy, social work, nursing, respiratory therapy and psychology. These areas address the specific obstacles or impediments faced by individual patients, with everyone coming together to support the patient and meet their needs.
OTs might work in clinics, government offices, community centers, universities or research facilities, or private corporations. They might also perform much of their work during home visits.
Occupational therapy is a rewarding and socially beneficial career path. As an occupational therapist or an OTA, you spend your days helping patients who face difficulties in their day to day lives. Your job is to guide and care for these patients as they learn to overcome these difficulties. Therapeutic treatment allows this to happen.
What Does An Occupational Therapy Assistant Do?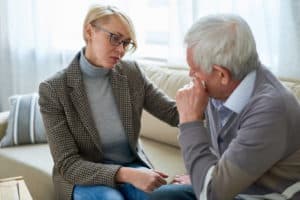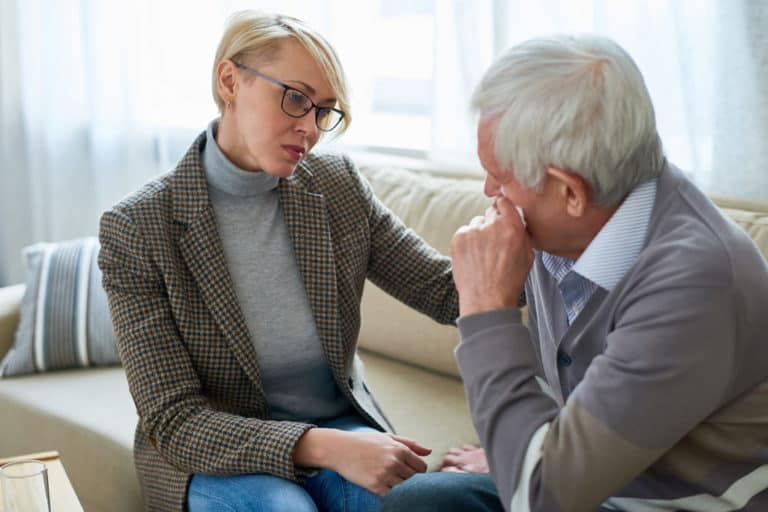 An occupational therapy assistant is not an occupational therapist. An OT generally has the lead role in the patient's therapy or care. They are likely to specialize in particular areas of occupational therapy and have expertise in these areas. As a result, they lead the treatment and therapy sessions.
An occupational therapist has a high level of training and education in many areas concerning occupational science, such as neurology, pediatrics, orthopedics, psychology, geriatrics, and rehabilitation. They also have a strong understanding of the factors involved in participating in certain activities and movements, whether physical, psychological, or social.
The occupational therapy assistant works in collaboration with the occupational therapist and the patient. An occupational therapist assistant's job is to ensure that the patient progresses through their treatment as effectively and smoothly as possible. An OTA contributes significantly to the patient's success and how well they respond to their care plan.
One of the most common jobs for an OTA is to coordinate with the OT and the patient to develop a treatment plan. This treatment plan guides the patient toward achieving their goals. The occupational therapist writes the plan with insight and assistance from the OTA. Often, the OTA develops a close relationship with the patients that other care team members do not. This relationship gives them insight into the patient's response to treatment that the occupational therapist and others may not have.
OTAs also set up equipment, manage the finer details of the patient's comfort, and provide therapy. They may also engage in a certain level of bookkeeping, record keeping, paperwork, and insurance-related documentation. The OTA handles much of the detailed work associated with developing and implementing the occupational therapy treatment plan.
OTAs are likely to work in occupational therapy offices, nursing or care homes, community centers, hospitals, or private practices. Often, these positions involve a certain amount of flexibility. The treatment plan might involve leaving the office to work on skills like shopping and moving around the community.
How Do You Become An OTA?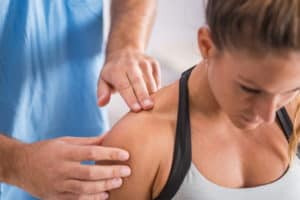 The process of becoming an OTA differs slightly from the process of becoming an occupational therapist. As mentioned, an occupational therapist generally has a master's or doctorate in either occupational therapy or a related medical or health field. These degrees can involve nearly ten years of post-secondary education.
To become an occupational therapy assistant, you can attend a specialized program for OTA training, which offers an associate's degree in OTA. You can also get a bachelor's degree if you wish to pursue further education. All states regulate occupational therapy, which includes OTAs. This regulation means that you must obtain your degree at a certified and accredited institution. To work as an OTA, you must have a valid certification.
Many people study to become occupational therapy assistants at technical schools or community colleges. The programs usually last about two years followed by four months of on-the-job training. This clinical component is as important as the coursework itself and provides students with the practical understanding required to effectively serve as an OTA.
OTAs are likely to study a variety of subjects to account for the broad nature of the field. These subjects are typically health science-related but may lean toward a more practical understanding as opposed to a theoretical or research-based exploration that the occupational therapist would study in school.
The Bureau of Labor Statistics lists many attributes that a person should have to be a successful OTA. These include:
Adaptability
Compassion
Detail-oriented
Interpersonal skills
Personal strength
The BLS also recommends that high school students interested in studying to be an OTA should take courses such as biology and health education. Also, we recommend taking practical sciences, physical education, and psychology courses.
After passing your program successfully, you will likely have to take the National Board for Certification in Occupational Therapy, or NBCOT, exam if you plan to work as an occupational therapy assistant in the United States. Other regions have certifications that cater to their locality. Throughout your career, you will have to take additional courses to maintain your certification, but it's unlikely that you will have to retake the NBCOT exam.
What Are The Best Schools To Study Occupational Therapy?
The best schools to study occupational therapy in the United States differ, depending on whether you plan to work as an OT or as an OTA. Some of the best schools for people who plan to work as OTs include:
Some of the most affordable programs for occupational therapy include:
To work as an OTA, you may need to attend different programs. Some of the best schools to study as an occupational therapy assistant include:
The program that you choose will be important for the specific area you hope to work in. Remember that an OT needs a master's or doctorate to work professionally or run a private practice. An OTA needs an associate's or bachelor's degree to work with an OT. They also need to pass the standard national certification exam.
What Is The Average Salary Of An OTA?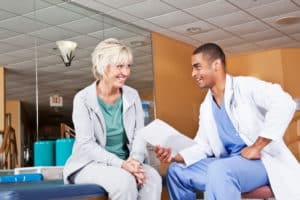 People interested in becoming health professionals are generally not motivated primarily by money. Healthcare is about helping others, and people who choose to enter this field want to help. However, it is helpful to have a sense of the kind of salary that you should expect as an occupational therapy assistant.
The good news is that there will never be a job shortage for occupational therapy assistants. The prediction is that there will be a rise of about 32% in jobs for occupational therapy assistants over the next decade. This increase is not because there is a greater need for occupational therapy than there was before, but because there is a better understanding of the need for this field. Fortunately, occupational therapy is blossoming.
The Bureau of Labor Statistics suggests that the average occupational therapist assistant can expect to make about $62,940 per year in salary. This amount breaks down to over $20 an hour. Occupational therapy aides make about $30,180 per year. It is important to note that there is a drastic distinction between occupational therapy assistants and occupational therapy aides.
There are job openings for occupational therapy assistants across the country, though someone specializing as an occupational therapist assistant will not need to relocate as these jobs are in demand across the country. Overall, this is a great area to get into and has great potential for job security.
Conclusion
An OTA is an occupational therapy assistant. Occupational therapy is a broad field of health science that deals with helping people overcome obstacles and impediments to participate in everyday activities, ranging from work and hobbies to socializing and performing household tasks.
As occupational therapy is such a broad field, it overlaps with a large number of other fields in health and medicine. These include psychology, speech pathology, neurology, physical therapy, pediatrics, and geriatrics. Often, OTs work with a specific group of patients, such as the elderly or with children with disabilities.
An occupational therapy assistant helps in the overall treatment of patients. They coordinate with patients and OTs to help develop and deliver the best treatment plan possible. Often, they participate directly in therapy sessions and help patients feel comfortable as they progress. OTAs also deal with many of the tasks associated with occupational therapy, such as bookkeeping and documentation. OTAs are very hands-on and involved in all stages of OT treatment.
To become an OTA, you need to obtain an associate's degree or a bachelor's degree. There are a large number of schools that specialize in training people for careers in occupational therapy. Some of the best include St. Catherine University, Casper, and Touro College.
Occupational therapy is a rewarding career path. You spend your days helping people, caring for others, and contributing to the betterment of society. If you love to help people, have great social and communications skills, and an interest in medical or health science, a career in occupational therapy might be the right path for you.