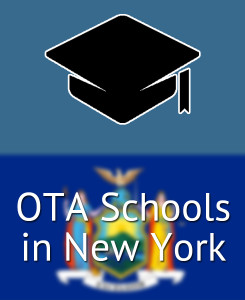 New York is currently offering 9 OTA programs that are from ACOTE accredited OTA schools. In order to get your state license and sit for the COTA exam you will need to graduate from an accredited program. Below is a table of the 9 accredited occupational therapist assistant schools in New York, click any school for more detail and contact info to the OTA program director.
More OTA Info for New York:
See OTA Schools by state
See Online OTA Schools
Accredited OTA Schools in New York
Choosing OTA Schools in New York
There are some important criteria to consider while evaluation occupational therapy assistant schools. Below is a list of the most import factors to research for each OTA program you research:
Size of school and program
College and COTA Exam pass-rates
Quality of campus, faculty, facilities, and resources
Expenses and financial aid offered for the program
Specific admissions criteria
Ask admissions officers which local companies hire their graduates. Then reach out to speak with employers and alumni about their experience with the program. They will be the best source of info and insight on the specific OTA schoos you are comparing.
More OTA Info for New York: