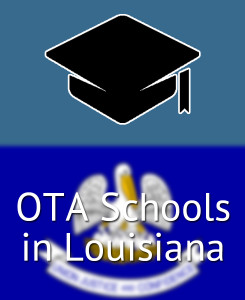 Louisiana has 3 OTA Schools that are ACOTE accredited OTA programs. Completing one of these accredited OTA programs is required so that you may sit for your COTA exam administered by the NBCOT. Graduating and passing the exam are both required to obtain a state OTA license. The table below contains links to more info included contact information for each PTA program in Louisiana.
More OTA Info for Louisiana:
See OTA Schools by state
See Online OTA Schools
Accredited OTA Schools in Louisiana
Selecting OTA Schools in Louisiana
While you are researching and comparing schools and OTA programs, make sure to consider the following criteria points for each occupational therapist assistant program you evaluate:
Size of classes and program
Graduation Rate and COTA Exam passing rate
Facilities and quality of resources
Complete breakdown of expenses and financial aid available
Specific admissions criteria for the OTA Program
It may be helpful to reach out and survey alumni from each OTA program about their experience at that college. Another great insight for information on each OTA school are the local health clinics that hire graduating students and offer clinical training to students. The OTs and OTAs at these offices may be able to tell you a lot about the program.
More OTA Info for Louisiana: