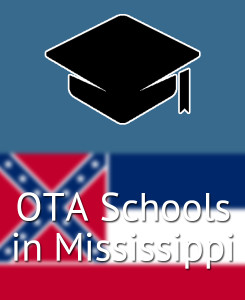 Mississippi currently offers 3 OTA programs that are from ACOTE accredited OTA schools. To get your OTA license you'll need to graduate from an accredited OTA program and pass the COTA Exam by the NBCOT. Below is a table of all of the OTA schools in Mississippi, click on each school name for more details and contact information to each program director:
More OTA Info for Mississippi:
See OTA Schools by state
See Online OTA Schools
Accredited OTA Schools in Mississippi
Selecting OTA Schools in Mississippi
It is wise to research and compare a few OTA schools. The following are important criteria to consider when comparing occupational therapy assistant programs:
Size of the school and program
Passing-rates for the COTA Exam, Graduation Rates, and Employment Rates
School Campus, Facilities, and Program Resources
Complete breakdown of expenses and financial aid offered
Admissions criteria for the OTA program
Try asking the admissions officer to connect you with a local health clinic that works with their students through clinical trials and hiring graduates. If you can speak to some alumni and local OTs/OTAs that know the school then you can gain some great insights into the OTA program.
More OTA Info for Mississippi: