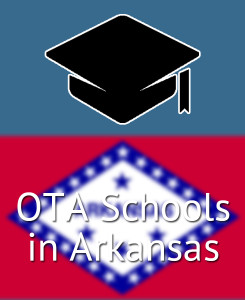 Arkansas offers 4 accredited OTA schools by the Accreditation Council for Occupational Therapy Education (ACOTE). Upon completing an accredited OTA program you become eligible to sit for the Certified Occupational Therapist Assistant Exam (COTA) administered by NBCOT. This is required to obtain an OTA license to work in your state. Below are the 4 accredited OTA Schools in Arkansas, click them to learn more about each OTA program.
More OTA Info for Arkansas:
See OTA Schools by state
See Online OTA Schools
Accredited OTA Schools in Arkansas
What to Consider in OTA Schools in Arkansas
There are a couple of of factors to consider when comparing Occupational therapy assistant schools. Here's a short list of a couple of the most significant factors to remember as you research for your OTA school:
University size
Passing rate of the National licensure test
Lecture room and lab-room facilities
Program costs and opportunities for financial aid
School admission criteria
While you bring all these Occupational therapist assistant school factors into consideration, it can be beneficial to talk with present-day college students as well as former students of the Occupational therapy assistant programs of curiosity. Also, talking to employers who have hired these graduates may provide you more insight to each programs strengths and weaknesses.
More OTA Info for Arkansas: