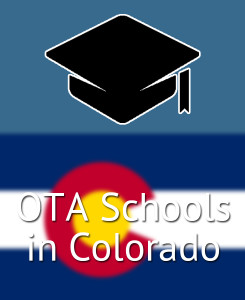 Colorado offers 3 CAPTE accredited OTA programs to choose from. Taking the Certified Occupational Therapist Assistant Exam (COTA) is required for your state license and can't be taken until you complete an accredited OTA program. Below are the 3 accredited OTA Schools in Colorado, click them to learn more about their OTA programs.
More OTA Info for Colorado:
See OTA Schools by state
See Online OTA Schools
Accredited OTA Schools in Colorado
How to Select a OTA School in Colorado
There are a number of things to consider when selecting Occupational therapist assistant programs. Here's a quick list of some of the most crucial considerations to always remember as you research for your Occupational therapist assistant program:
College size
Pass-rates of the National licensure test
Lecture room and labroom facilities
OTA School costs and potential opportunities for financial aid
OTA Program admittance requirements
As you bring these Occupational therapy assistant program things into thought, it may be useful to talk with current students in addition to recent graduates of the Occupational therapist assistant schools of interest. Also, interviewing firms whom have hired these students can give you additional insight to each programs strengths and weaknesses.
More OTA Info for Colorado: