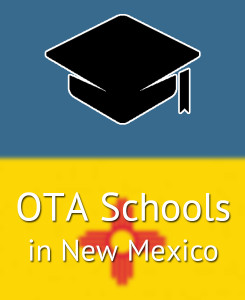 New Mexico offers 4 OTA programs that are at ACOTE accredited OTA schools. Graduating is required to take your COTA exam by the NBCOT in order to obtain your state license. Below are links to more details and contact information for all of the occupational therapist assistant schools in New Mexico:
More OTA Info for New Mexico:
See OTA Schools by state
See Online OTA Schools
Accredited OTA Schools in New Mexico
Researching OTA Schools in New Mexico
As you research occupational therapy assistant schools, make sure to keep the following criteria in mind to help you choose wisely. Here are the most important things to consider in an OTA school:
Size of the OTA Program and college
Graduation Rates, COTA Exam Pass Rate, and Employment Rate
Quality of campus, builing facilities, and all resources
Complete info on expenses and financial aid
Specific admissions criteria
Surveying alumni is one of the bes ways to learn about an OTA program. Ask admissions officers if they can tell you some of the local organizations that hire their OTA graduates so that you can reach out and speak to alumni and employers for more insights about the college.
More OTA Info for New Mexico: