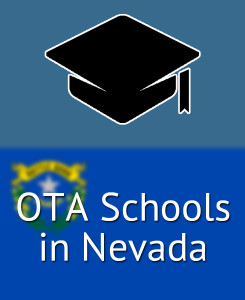 This page contains complete information on OTA schools in Nevada.
Nevada has 1 ACOTE accredited OTA schools. Prior to attaining your COTA license you must complete an accredited OTA program and pass the NBCOT exam.
Below is a table of the OTA schools in Nevada, click to learn more about an OTA program.
See OTA Programs Near Me
See Online OTA Programs
Accredited OTA Schools in Nevada
Pima Medical Institute, Las Vegas OTA Program
Physical Address
Occupational Therapy Assistant Program
3365 E. Flamingo Road
Las Vegas, NV 89109
Phone Number
(702) 458-9650
Website Address
www.pmi.edu
OTA Program Contact
hejohnson@pmi.edu
OTA Program Accreditation
Program Accreditor
The Accreditation Council for Occupational Therapy Education (ACOTE)
OTA Schools Near Nevada
If studying out of state to get your education sounds appealing then the following states have colleges and universities with great OTA schools to choose from.
Selecting an OTA School in Nevada
The following university criteria should be compared for each of the OTA schools in Nevada
Here is a list of considerations to take in mind when comparing occupational therapy assistant programs in Nevada and other areas.
OTA Program size
Pass rate of the NBCOT exam
Quality of facilities such as labs and classrooms
Program costs including tuition, books, living
Admission and financial aid criteria
The best sources for information regarding any OTA programs that you evaluate are prior graduates of that program and current students. Try connecting with students to get feedback and you can also call local employers to get info from their employees who attended the program you are researching.
More OTA Info for Nevada:
Apply for OTA license in Nevada
Research OTA Salary in Nevada
Click on schools below to learn more about their programs
[qs_listing areaofinterest="PHYSICAL-THERAPY-ASSISTING"]