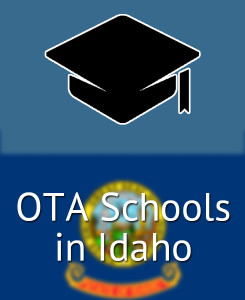 Idaho has 1 accredited OTA school by the ACOTE. Before you can sit for the COTA exam administered by the NBCOT (required for your state OTA license), you must graduate from an accredited OTA program. The table below has a link to the 1 ACOTE accredited OTA school in idaho.
More OTA Info for Idaho:
See OTA Schools by state
See Online OTA Schools
Accredited OTA Schools in Idaho
Selecting OTA Schools in Idaho
When researching Occupational therapist assistant programs you should have a list of considerations. Here is a quick list of the most important basic things to consider when comparing OTA programs:
# of students in the OTA Program
OTA Program Passing-rates (both classes and of the license test)
Class & lab facility building quality
Financial aid offered and total program expenses
Admissions criteria
A great tip for learning more about specific programs are to reach out to alumni and get their feedback on the program. Another great resource for reaching out too are local medical facilities that higher local OT and OTA graduates, see what they think about the program and quality of OTAs that graduate from it.
More OTA Info for Idaho: