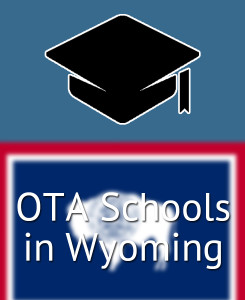 This page contains complete information on OTA schools in Wyoming.
Wyoming offers 1 ACOTE accredited OTA programs. It is required to graduate so that you can get your license by taking the COTA Exam that the NBCOT administers.
Click on and OTA schools in Wyoming below to learn more details and get program contact info.
See OTA Programs Near Me
See Online OTA Programs
Accredited OTA Schools in Wyoming
Casper College OTA Program
Physical Address
Occupational Therapy Assistant Program
125 College Drive
Casper, WY 82601-9958
Phone Number
(307) 268-2867
Website Address
www.caspercollege.edu
OTA Program Contact
choff@caspercollege.edu
OTA Program Accreditation
Program Accreditor
The Accreditation Council for Occupational Therapy Education (ACOTE)
OTA Schools Near Wyoming
If you are interested in studying out of state to complete your coursework, classes and education check out the accredited schools in the following nearby states.
Selecting OTA Schools in Wyoming
While comparing OTA schools in Wyoming, take a look at each of the following criteria for each college or university program.
While researching and comparing occupational therapist assistant programs, keep the following in mind:
Campus, student body, and OTA program size
Passing rates of college and OTA program
Level of quality of college buildings and program facilities
Total list of expenses and financial aid
Admissions criteria
Talk to admissions officers, students, and program directors to get insight into the OTA programs you are considering. Also, ask which local businesses hire their graduates so you can reach out to alumni and employers to gain even more valuable inisight into the local occupational therapy assistant schools.
More OTA Info for Wyoming:
Apply for OTA license in Wyoming
Research OTA Salary in Wyoming
Click on schools below to learn more about their programs
[qs_listing areaofinterest="PHYSICAL-THERAPY-ASSISTING"]