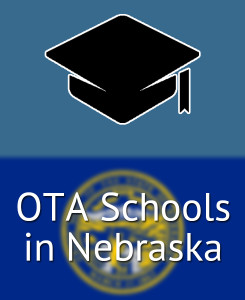 Nebraska has 20 ACOTE accredited OTA schools. Completing an accredited OTA program is necessary in order to take your COTA exam administered by the NBCOT which is required to apply for a state OTA license. You can see the 20 accredited OTA Schools in Nebraska in our table below, click a school to learn more about its OTA program.
More OTA Info for Nebraska:
See OTA Schools by state
See Online OTA Schools
Accredited OTA Schools in Nebraska
Selecting OTA Schools in Nebraska
Consider the following as you research and compare various occupational therapist assistant schools and programs:
Size of the OT/OTA Program
Passing-rates (both graduation and COTA exam)
Quality of campus facilities and program resources
Overview of expenses and available financial aid
Specific admissions criteria
One of the best sources of info on OTA programs are alumni and employers. Check with each admissions office if they can put you in touch with a local organization that hires their graduates so that you can survey them for more info on the program.
More OTA Info for Nebraska: