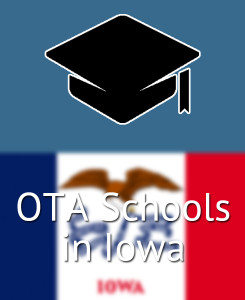 Iowa has 4 ACOTE accredited OTA programs. In order to obtain your Iowa OTA License, you will need to graduate from an accredited school and pass the COTA exam by the NBCOT. The table below links to more detail about each of Iowa's OTA programs.
More OTA Info for Iowa:
See OTA Schools by state
See Online OTA Schools
Accredited OTA Schools in Iowa
Selecting OTA Schools in Iowa
Below is a short list of the most important factors to consider and compare when researching Iowa's occupational therapy assistant programs:
# of students (Program size)
COTA Exam and classroom passing rates
Quality of facilities
Total financial aid offered and program expenses
OTA Program specific admissions criteria
Try reaching out to past alumni from the OTA programs of interest to survey them for insightful feedback. Local health clinics that hire graduates are also a great source to reach out to for their feedback of the schools and students they've worked with from the programs.
More OTA Info for Iowa: