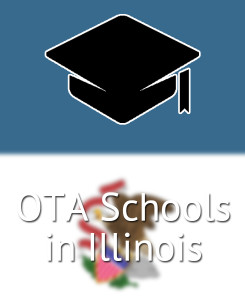 Illinois is home to 8 ACOTE accredited OTA schools. In order to obtain your state OTA license, required for employment, you must first graduate from an accredited OTA program and pass the COTA exam put on by the NBCOT. A list of the 8 accredited OTA Schools in Illinois for comparison are below in our table, click the school names to learn more about each OTA Program.
More OTA Info for Illinois:
See OTA Schools by state
See Online OTA Schools
Accredited OTA Schools in Illinois
Selecting OTA Schools in Illinois
Whil researching Occupational Therapy Assistant Schools and Programs, make sure to keep the following important info in mind:
Size of OTA Program (# of students)
Classroom and COTA exam passing rates
Quality of facilities (campus, class and lab rooms)
Financial Aid offered and complete breakdown of expenses
Criteries for admissions into the program
Reaching out to alumni from each program and asking for feedback is a great way to gather valuable insight about each OTA school. You can also reach out to local clinics that hire graduates and ask them for feedback on the program and OTs/OTAs that they have hired.
More OTA Info for Illinois: