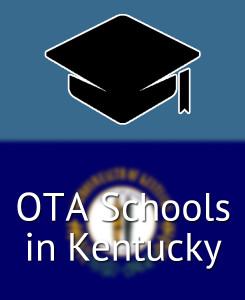 Kentucky is home to 5 accredited ACOTE OTA programs. Students must graduate, and then pass the COTA exam that the NBCOT offers, in order to obtain their OTA license to work. Below are links to more information including contact details so you can research and compare Kentucky's OTA schools.
More OTA Info for Kentucky:
See OTA Schools by state
See Online OTA Schools
Accredited OTA Schools in Kentucky
Selecting OTA Schools in Kentucky
While researching and comparing occupational therapist assistant schools in Kentucky, consider the following information:
# of students/Program size
Overall pass rates (both program and COTA exam)
What is offered and quality in terms of buildings, labs, and all campus facilities
Complete breakdown of program costs and financial aid available
Specific admissions criteria
One of the best sources of information are past students, alumn from each program. Try reaching out to some to get their feedback of the college and program. Another great source to speak to about OTA programs and schools are local health clinics that hire graduated students. Ask them about their experience with the program and working with graduates.
More OTA Info for Kentucky: