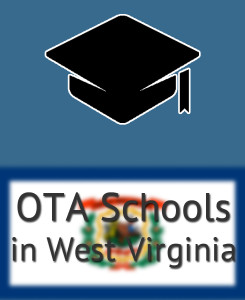 West Virginia is home to only 1 occupational therapist assistant program that is from an ACOTE accredited OTA school. Graduating is required to sit for the COTA exam by NBCOT and to get your state OTA employment license. Click on West Virginia's OTA schools below to learn more and get OTA program director contact info.
More OTA Info for West Virginia:
See OTA Schools by state
See Online OTA Programs
Accredited OTA Schools in West Virginia
University of Charleston-Beckley (formerly Mountain State University) OTA Program
Physical Address
Occupational Therapy Assistant Program
School of Health Sciences 158 Dye Drive
Beckley, WV 25801-2636
Phone Number
(304) 929-1362
Website Address
www.ucwv.edu
OTA Program Contact
kayblose@ucwv.edu
OTA Program Accreditation
Program Accreditor
The Accreditation Council for Occupational Therapy Education (ACOTE)
Selecting OTA Schools in West Virginia
When deciding on an occupational therapy assistant program, research each OTA school and compare the following criteria:
School size (campus, student body, and OTA program)
Rate of passing for college, program, and COTA Exam
Campus, Class, and Lab facilities (Quality and what exactly is offered)
Clear and complete program cost breakdown including expenses and financial aid
Admissions criteria for the school and the OTA program
Talk to admissions officers and program directors at each OTA school you are considering to gather information for comparison. Try finding out which local business hire graduates so you can talk to employers and alumni and gather even more program insight.
More OTA Info for West Virginia:
Click on schools below to learn more about their programs