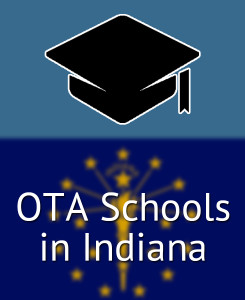 This page contains complete information on OTA schools in Indiana.
Indiana has 5 OTA programs that are accredited by the ACOTE. Graduating from one of these will be required to take your COTA Exam and obtain your state OTA license.
The table below contains the 5 OTA schools in Indiana, click the names to learn more about each program.
See OTA Programs Near Me
See Online OTA Programs
Accredited OTA Programs in Indiana
University of Southern Indiana OTA Program
Physical Address
Occupational Therapy Assistant Department
College of Nursing and Health Professions
8600 University Boulevard
Evansville, IN 47712-3534
Phone Number
(812) 465-1179
Website Address
www.usi.edu
OTA Program Contact
usi1otatinfo@usi.edu
OTA Program Accreditation
Program Accreditor
The Accreditation Council for Occupational Therapy Education (ACOTE)
OTA Schools Near Indiana
The following states nearby to Indiana offer a number of wonderful accredited occupational therapist assistant schools to compare if you don't mind relocating to begin taking classes for your education.
Selecting OTA Schools in Indiana
With 5 OTA schools in Indiana to select from make sure to review important criteria for each university.
Below are the most important things to consider when researching and comparing Occupational therapist assistant programs:
# of students in the OTA Program
Passing-rates of the classes and the COTA Exam
Facility, class, and lab quality
Total financial aid offered and program expenses
Specific criteria for admissions
It is wise to reach out to alumni from each program you are considering. Ask them for feedback on the school and learn more detail from a former student's perspective. You can also reach out to local health clinics that hire from the OTA program and ask for their feedback of the students they have hired and worked with.
More OTA Info for Indiana:
Apply for OTA Licenses in Indiana
Research OTA Salary in Indiana
Click on schools below to learn more about their programs
[qs_listing areaofinterest="PHYSICAL-THERAPY-ASSISTING"]