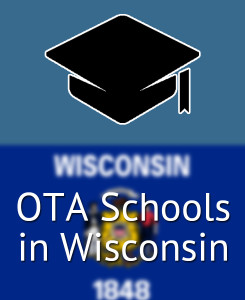 Wisconsin has 6 ACOTE accredited occupational therapist assistant schools. Graduating is required in order to sit for the NBCOT's COTA Exam which is required for your license. All of Wisconsin's OTA programs are listed below, click each school for more details and contact info.
More OTA Info for Wisconsin:
See OTA Schools by state
See Online OTA Schools
Accredited OTA Schools in Wisconsin
Comparing and Choosing OTA Schools in Wisconsin
As you research and compare occupational therapy assistant programs, take notes of the following for each OTA school that you consider:
School, Student Body, Campus & OTA Program size
School, OTA Program, and COTA Exam passing-rates as well as post graduation employment rates
Quality of education and facilities (Faculty to student ratio, campus, building and lab/facility quality)
Complete info on all expenses and financial aid for the OTA program
Complete admissions criteria for the college and OTA program
As you do your research, talk to each OTA school's admissions officers and program directors for insight. Also ask them which local organizations hire their students so that you can reach out and garner more feedback from employers and alumni that have experience with the schools you're interested in.
More OTA Info for Wisconsin: