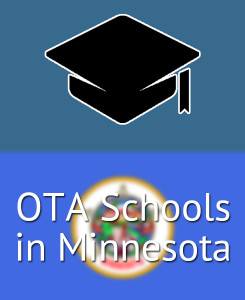 Minnesota currently offers 4 OTA Programs that are ACOTE accredited OTA schools. Before applying for your state OTA license you need to graduate from an accredited OTA program and pass the COTA exam by the NBCOT. Below are links to more details including contact info for each of the accredited OTA schools in Minnesota:
More OTA Info for Minnesota:
See OTA Schools by state
See Online OTA Schools
Accredited OTA Schools in Minnesota
Selecting OTA Schools in Minnesota
It is good to compare multiple schools before choosing an OTA program. Here is what you should know for each occupational therapy assistant program you look into:
School and OTA Program size
Graduation and Pass Rates for Program and COTA Exam
School Facilities and OTA Resources
Complete list of expenses and financial aid options
Admissions criteria specific to the OTA Program
Ask the admissions counselor at each OTA school you're considering for a list of local clincs that hire their OTA students. Reaching out to alumni and employers are some of the best sources of insight into each OTA program.
More OTA Info for Minnesota: