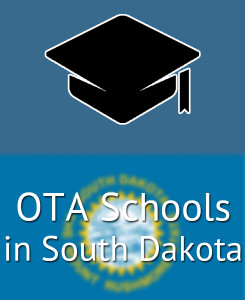 South Dakota has 1 ACOTE accredited OTA schools.
Remember that graduating is required to take the NBCOT's COTA Exam and get your state OTA license for employment.
For more details and contact information to South Dakota's OTA schools, click on the school name below.
See OTA Schools by state
See Online OTA Schools
Accredited OTA Schools in South Dakota
Accredited OTA Programs in South Dakota
Next Visitation Date
Lake Area Technical Institute
Watertown, SD
Status: Accreditation
Next Visit: Spring 2023
Selecting OTA Schools in South Dakota
When comparing any occupational therapy assistant schools, remember the following:
College, Class, Campus, and Program size
Passing-rates of: College, Program, COTA Exam
Quality of campus, facilities, buildings, and all resources
Total program expenses and financial aid
Specific admissions criteria
While considering OTA schools, ask the admissions offices which local clinics hire their graduates. Then reach out to speak with employers and alumni about the local OTA program(s) they will be your best insight for info.