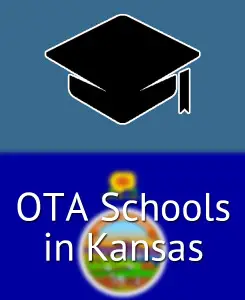 Kansas offers 5 accredited (ACOTE) OTA programs. The first step towards your Kansas OTA license is graduating, then you must pass the COTA exam administered by NBCOT. Click on any of the 5 OTA programs in Kansas below to learn more about the program and find contact info.
More OTA Info for Kansas:
See OTA Schools by state
See Online OTA Schools
Accredited OTA Schools in Kansas
Selecting OTA Schools in Kansas
Try gathering the following info on each of the occupational therapist assistant programs you are comparing:
Class/Program size
Course and Exam passing rates (COTA exam)
Facilities, buildings, labs (quality and offerings)
A complete breakdown of financial aid offered and program expenses
Specific program admissions criteria
Try contacing alumni from each program as well as local health clinics that higher students from each program. Surveying past students and employers can be extremely insightful when considering an occupational therapy assisting program.
More OTA Info for Kansas: