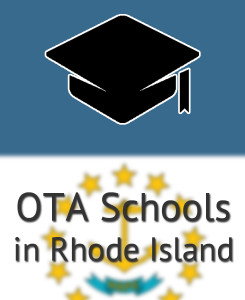 Rhode Island only has 2 ACOTE accredited OTA program. It is required to graduate from an accredited OTA program in order to take the COTA Exam and get your state OTA license. Click on either of the OTA schools in Rhode Island below to learn more details and get contact info to the OTA program.
More OTA Info for Rhode Island:
See OTA Schools by state
See Online OTA Schools
Accredited OTA Schools in Rhode Island
Selecting OTA Schools in Rhode Island
Here are the most important considerations in any occupational therapy assistant school program:
# of students at school and in OTA program
Passing-rates for college, program, and COTA Exam
Campus, Classroom, and Resource offerings/quality
Complete detailed info on expenses and financial aid
Admissions criteria for OTA program
Try reaching out to local businesses that hire graduates from any programs you're researching. Talking to employers and alumni about their experience with any local OTA school(s) can be very insightful.
More OTA Info for Rhode Island: