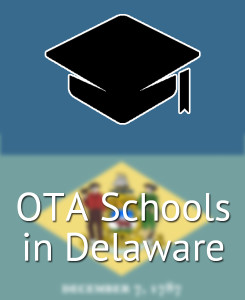 Delaware has 2 ACOTE accredited OTA schools. Before you can take the COTA exam put on by the NBCOT you have to complete an accredited OTA program. Once you finish school and pass the COTA, then you can apply for a state OTA license. Below are the 2 accredited OTA Schools in Delaware, click each one to learn more about its OTA program.
More OTA Info for Delaware:
See OTA Schools by state
See Online OTA Schools
Accredited OTA Schools in Delaware
Selecting OTA Schools in Delaware
There are a few of considerations when comparing Occupational therapy assistant schools. Here is a short list of a couple of the most important considerations to bear in mind as you research for your Occupational therapist assistant program:
OTA Program size
Pass rates of the NOTAE exam
Classroom and lab buildings
University expenses and opportunities for financial aid
School admission requirements
As you take all these OTA program things into thought, it can be helpful to talk with current college students as well as former students of the Occupational therapy assistant schools of interest. Also, interviewing businesses whom have hired these graduates can provide you additional insight to each programs strengths and weaknesses.
More OTA Info for Delaware: