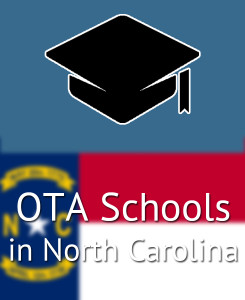 North Carolina offers 7 OTA programs that are from ACOTE accredited colleges. Before obtaining your state OTA license you'll need to graduate from an accredited OTA program and pass the COTA Exam administered by the NBCOT. Below are the 7 occupational therapy assistant schools in North Carolina, click on each one for more details and contact information.
More OTA Info for North Carolina:
See OTA Schools by state
See Online OTA Schools
Accredited OTA Schools in North Carolina
Choosing OTA Schools in North Carolina
You will want to keep a few criteria in mind when researching and comparing OTA schools in North Carolina. Here is a list of the most important things to consider:
Class Size, College Size, and Program Size
Pass Rate at College, Program, and for the COTA Exam (employment rates can be helpful too)
Quality of campus, buildings, labs, facilities, and program resources
A complete over view of all financial aid and expenses for the program
Important specific admissions criteria
Two of the best sources to learn about an OTA program are an alumni or an employer. Try asking admissions officers to put you in touch with local business that hire their graduates so that you can survey alumni and employers for feedback on the colleges you are comparing.
More OTA Info for North Carolina: