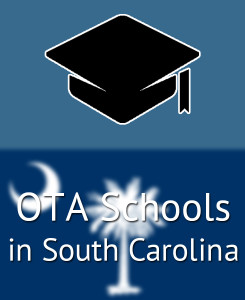 South Carolina has 5 ACOTE accredited occupational therapy assistant schools. Passing one is required to take the NBCOT's COTA Exam and get your state OTA license for employment. Below are the 5 accredited OTA schools in South Carolina, click on them for more details and OTA program contact info.
More OTA Info for South Carolina:
See OTA Schools by state
See Online OTA Schools
Accredited OTA Schools in South Carolina
Selecting OTA Schools in South Carolina
You should have a checklist of the most important things to compare when looking at occupational therapist assistant schools. Here is a great start to that checklist when comparing ota programs:
Size of campus, student body, and ota program
Passing-rates for entire school, program, and for the COTA Exam
Quality of campus buildings, facilities, and program resources
List of all financial aid and program expenses
Important admissions requirements
While considering an OTA school, ask the admissions office which local businesses hire their graduates. Then reach out to these employers and try talking to them and any alumni that work their to get feedback on the local OTA program.
More OTA Info for South Carolina: