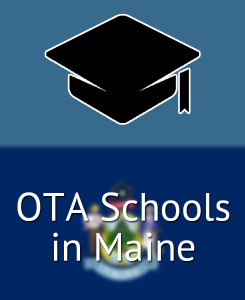 This page contains complete information on OTA schools in Maine.
Maine offers 1 ACOTE accredited OTA program. Passing an accredited OTA program is required to sit for the COTA exam by the NBCOT which you must also pass to obtain your OTA license.
Below is the 1 ACOTE accredited OTA school in Maine, click on it to learn more details and see contact information.
See OTA Programs Near Me
See Online OTA Programs
Accredited OTA Programs in Maine
OTA Schools Near Maine
You may want to consider getting you OTA education out of state by taking classes in one of the following nearby states at one of the many occupational therapy assistant schools.
Selecting OTA Schools in Maine
Make sure to perform your due dilligence on each univerisity with OTA schools in Maine by comparing the following criteria.
As you research OTA programs make sure to compare each of the criteria for each occupational therapy assistant school that you review:
Size of school and # of students in program
Program graduation rate and COTA Exam pass rate
Campus facilities and program resources offered
All educational expenses and any financial aid you qualify for
Specific admissions criteria
It is often helpful to speak to local employers that offer clinical trials and jobs to students and graduates in the OTA program(s) you are evaluating. Ask the admissions officer if they can refer you to a local clinic that hires students, or to any alumn from the OTA program (even if they don't work locally) to ask them about their experience with that school and OTA program.
More OTA Info for Maine:
Apply for OTA License in Maine
Research OTA Salary in Maine
Click on schools below to learn more about their programs
[qs_listing areaofinterest="PHYSICAL-THERAPY-ASSISTING"]