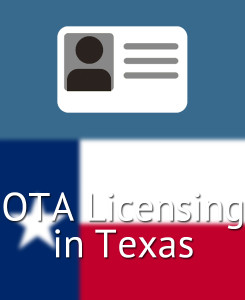 Recent census data collected by the BLS shows 7,050 licensed OTs and OTAs in Texas. The field is projected for large growth through 2020, of 33%. The Texas Board of Occupational Therapy Examiners regulates the licensing of Occupational Therapists and Occupational Therapist Assistants in Texas. The licensing section will handle all applicants for registration. Applicant fees are non-refundable so it is important that you make sure you meet all the requirements before applying.
More OTA Info for Texas:
| OTA License Requirement | Required in Texas? |
| --- | --- |
| Complete Accredited OTA Program from AOTE certified school & submit official transcripts | Yes |
| Submit proof of at least 6 months of supervised field experience & name of supervisor | Yes |
| Provide 2 signed letters of reference from supervisor or professor | No |
| Pass the National Board of Occupational Therapist (NBCOT) COTA Exam | Yes, $555 in person/$515 online |
| Provide letter of verification from NBCOT | Yes |
| Pass criminal background check | Yes |
| Provide statement of citizenship and alien status | No |
| Submit fingerprint card | No |
| Complete TexasOTA License Application & Pay Fee | Yes, $100 |
| Complete continuing education credits every two years | Yes, 30 hours |
Texas OTA License Application
To start the online application process now, visit the online application form. You will also need to complete the online jurisprudence exam.
Texas OTA Board Contact Info
TEXAS BOARD OF OCCUPATIONAL THERAPY EXAMINERS
333 Guadalupe, Suite 2-510
Austin, TX 78701-3942
Phone Numbers & Fax
p: (512) 305-6900
f: (512) 305-6970
Why Be a OTA in Texas?
The average OTA salary in Texas is one of the highest average OTA salaries in the U.S. So, if you want to get paid well, then being a OTA in Texas is a great move.
Also, there are plenty of accredited OTA schools in Texas if you haven't finished your education.
More OTA Info for Texas: