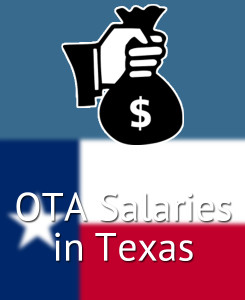 This page has complete data for each major cities' OTA Salary in Texas (TX).
According to the U.S. Bureau of Labor Statistics (BLS), Texas offers an average OTA salary of $67,090 annually. This median OTA salary in Texas is well above the US national average of $61,510.
The data below, presents a wide range of OTA salaries in Texas ranging from $52,045 to $62,030. Texas is home to a few of the highest paying U.S. cities for OTA salaries such as Tyler, El Paso, and Fort Worth.
Compare an OTA Salary in Texas (TX) by City
The table below contains the Median OTA Salary in Texas by each major city.
Texas City

Annual Median OTA Salary

Abilene, TX

$55,192

Austin, TX

$59,519

Dallas, TX

$60,124

El Paso, TX

$52,932

Fort Worth, TX

$58,968

Houston, TX

$62,030

San Antonio, TX

$58,847

Lubbock, TX

$54,508

Plano, TX
$

59,866

Round Rock, TX
$

59,293

McAllen, TX

$52,045

Galveston, TX
$

59,404

Amarillo, TX

$55,494
As you can see from the salary data above, an OTA salary in Texas is one of the highest and most competitive salaries nationwide for occupational therapy assistants. See OTA Salaries by State
More Texas OTA Info