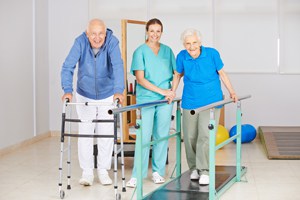 The most frequently asked question ever asked in our field is, "What does an occupational therapist assistant do?" just after "What is an OTA?"
OTAs work under the supervision of an occupational therapist in a wide variety of healthcare settings. They implement treatment plans developed by the OT for the patients.
Patients generally have an injury, illness, or disability and may range in age from infants to elderly. OTAs teach patients how to perform "occupations" allowing them to overcome challenges in their daily lives.
This keeps them performing independently in the activities most necessary and important to them.
For example, a patient with Scoliosis may need assistance with their brace throughout their day as well as other care from an OTA in order to complete a variety of physical activities.
Here are the main places occupational therapist assistants work:
Patient's Homes
Hospitals and health clinics
Rehabilitation and therapy centers
Nursing homes
Therapy clinics
Office settings and other workplace environments
Within this wide range of settings that occupational therapist assistants work in, here is what OTAs do at each place.
Pediatric Settings: Helping children with disabilities to improve their cognitive, motor, and sensory processing skills.
Hospital or Health and Wellness Clinics: Helping people with conditions such as arthritis to manage and control symptoms using devices as aids.
Mental Health Practices: Helping mental health patients, such as down syndrome patients, to be more independent in their self-grooming, playing, eating, and working abilities.
Dementia and Alzheimer's: Applying treatment plans addressing behavioral changes from a variety of proactive aging conditions.
Rehab/Disability Settings: Teaching disabled patients to use mobility aids or other devices useful in aiding their everyday life activities.
Workplace and Schools: Various industries including the education industry may require on-site occupational therapy assistants for overseeing therapy exercises, providing on-site interventions, and potentially work reconditioning.
For more details on the day to day work and general aspects of an OTA career, read this article.
To get started on your path to becoming an OTA, find the right online OTA program or an OTA Program nearby for you.
---
Questions About Occupational Therapist Assistants (COTA)?
Great, you can ask us and the community below 🙂
Related Occupational Therapist Assisting Questions