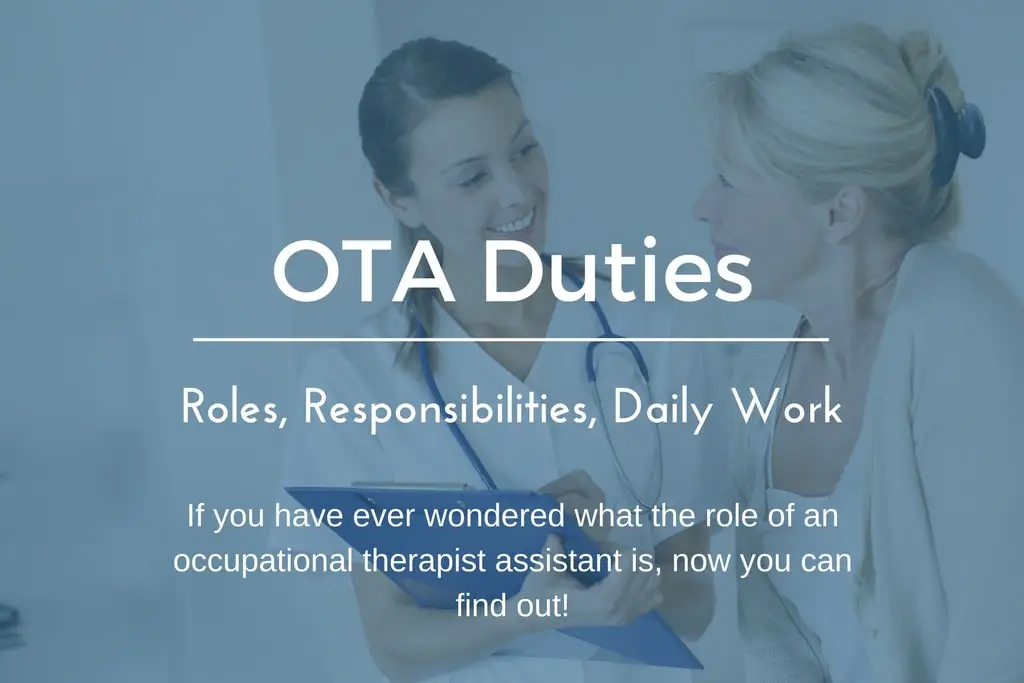 Quite frequently we get asked, what is an OTA? and what does an occupational therapist assistant do on a daily basis?
Great question! The answer isn't that they help people find jobs!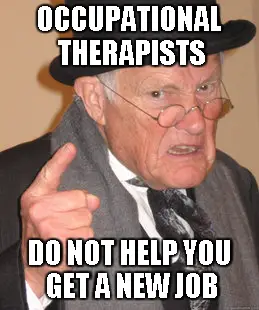 If that is what you thought then don't worry, we have created this complete list of Occupational Therapy Assistant Job Duties to help answer your question.
Complete List of Occupational Therapy Assistant Duties
Here are categorized lists of most of the common job duties of occupational therapist assistants.
Direct Assistance to OTR
The OTA may assist the OTR directly with procedures requiring help, such as:
Lifting, moving, and/or transporting clients
Executing bilateral assisted activities
Assisting in planning programs for activities
Assisting with group activities
Assisting with the applying and removing of splinting devices or any adaptive
equipment
Under Clear Instruction from OTR
Under the clear instruction of a licensed OTR, the OTA may:
Assist clients with their Occupational Therapy rehabilitation programs as
specified in their care plan
Assist with the planning and implementation of individualized or group
therapeutic programs under the direction of the Occupational Therapist
Supervise the practice of established functional programs such as personal
hygiene, wheelchair management, recreational activities or leisure
General OTA Job Duties
General occupational therapy assistant job duties consist of:
Interviewing clients for verification of information
Recording and reviewing medical history
Confirming the purpose of treatment
Overseeing client safety during treatment
Overseeing environmental safety at the facility
Help patients in improving their quality of life by training them to overcome various limitations such as helping workers with injury in improving their motor skills to allow them to re-enter the labor force
They also teach people suffering from any kind of learning disability to use public transportation, to prepare meals and become more independent
The treatment plan is finalized with the occupational therapist is followed by teaching various techniques to patients including the best ways to loosen and stretch muscles and a proper way to move from bed to a wheelchair among others
They also monitor various activities of the patients to ensure that patients are performing them correctly and offer encouragement to the patients. It is also their job to bring attention to anything that is not working as per the plan
They maintain records by recording the progress of patients to be used by the occupational therapist
They also record all the services provided to patients and help in generating revenue
They help in maintaining healthy, secure and safe work environment by following, establishing as well as enforcing various standards and procedures. These also help in complying with various legal regulations
They inventory stock on a regular basis and keep supplies ready. They also place orders for supplies and verify their receipt
It is also their job to ensure that all the equipment remains in operational status and keeps working
They also troubleshoot breakdowns, maintain various supplies, do preventive maintenance and call technicians for repair of equipment
They continuously serve and protect the practice by following various professional standards, procedures and policies
They also ensure that the practice complies with various local, state and federal requirements as well as the standards of Joint Commission on Accreditation of Healthcare Organizations
They also continue to participate in various educational activities to update their job knowledge
Some of these activities include reading various professional publications, participating in various professional organizations and maintaining personal networks
It is also part of the job to enhance the reputation of occupational therapy practice by taking ownership of various new and different requests from patients and explore other opportunities to add further value to their job
If you are a specialized OTA with additional or different job duties, then please comment below and share them so we can add them to the post 🙂
Occupational Therapy Assistant Job Role
The main job of occupational therapy assistants and aides is to assist their patients in developing, improving and recovering the necessary skills needed by the patients for various daily activities.
While the assistants play a more direct role in providing therapy to the patients, the therapy aides usually are limited to support activities.
Both assistants and aides work under the supervision of occupational therapist.
OTA Job Outlook
As far as the occupational therapy assistant job outlook is concerned, the projected rate of growth for the OTA profession is expected to be 41% from 2012 to 2022. This growth rate is much higher than the average for all the other occupations.
As people live longer, it is expected that occupational therapy is going to continue to be a very important part of treatment for various disabilities and illnesses.
In addition to geriatrics, many OTA professionals are working with a growing number of disabled children as well in specialized roles called pediatric occupational therapist assistants.
So, the job outlook for OTA workers is solid and growing in both directions.
Work Environment for Occupational Therapy Assistants
Primarily, the aides and assistants work in the offices of occupational therapists, nursing care facilities and hospitals. They spend most of their time on setting up various equipment and they also work with patients, when needed.
Becoming an Occupational Therapy Aide or Assistant
An associate's degree is needed from an accredited occupational therapy assistant program for an individual to qualify for licensing and to work as an occupational therapy assistant in most U.S. states. You can study in an online OTA program as well.
Although an associates degree license is needed to work as an OTA, on the other hand, the occupational therapy aides usually only have a requirement of high school diploma or equivalent to qualify to work.
You can learn the exact steps to become an OTA here.
Average Compensation for an OTA
Below are the median annual wages for OTA professionals as reported by the Bureau of Labor Statistics in 2016.
Median annual wage for Occupational Therapy Assistants: $62,940
Median annual wage for Occupational Therapy Aides: $30,180
You can research occupational therapy assistant salaries using our nationwide database to see median salaries in major cities across the country.
Also, we put together a list of salaries in the top 10 most popular cities for OTA professionals.
Skills and Qualifications Required for Working as an OTA
Some of the qualifications and skills required for occupational therapy assistants include:
teamwork
dependability
bedside manners
health promotion and maintenance
ability to work in a hospital environment
health care administration
patient services
verbal communication
scheduling and documentation skills among others
Conclusion
So, now you know what are occupational therapy assistant duties.
And you can help spread the word that occupational therapy assistants don't help people find jobs 😛
Seriously though, an OTA career is very rewarding, pays competitively and currently in high demand. So, if you think that the role and duties of an OTA sound like a good fit for you, then you should consider becoming an OTA.