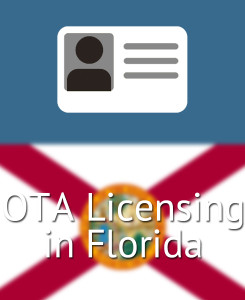 Recent BLS data shows 6,160 licensed OTs and OTAs working in the beautiful state of Florida. Additionally, this occupation is expected to grow 33% through 2020. The Florida Board of Occupational Therapy Practice regulates all applicants for Florida OTA Licenses. Below are the requirements to obtain and OTA license in Florida.
More OTA Info for Florida:
| OTA License Requirement | Required in Florida? |
| --- | --- |
| Complete Accredited OTA Program from AOTE certified school and send official transcripts | Yes |
| Submit proof of at least 2 months of supervised field experience & name of supervisor | Yes |
| Complete 2 hour course on preventing medical errors | Yes |
| Pass the National Board of Occupational Therapist (NBCOT) COTA Exam | Yes, $555 in person/$515 online |
| Provide official score reports and letter of verification from NBCOT | Yes |
| Pass criminal background check | Yes |
| Complete Florida OTA License Application & Pay Fee | Yes, $180 |
| Complete continuing education credits every two years | Yes, 20 CPE credit hours |
Florida OTA License Application

For detailed information and instructions to become an OTA in Florida, visit Florida's Applicant FAQs and register a free account so that you can apply online. To download the form, right click the icon to the right and then click on "Save As" to save the PDF
file.
Florida Dept. of Health Occupational Therapy Board Contact Info
Mailing Address for Application and Fees:
P.O. Box 6330
Tallahassee, FL 32314-6330
Mailing Address for Supporting Documents
4052 Bald Cypress Way
Bin C-05
Tallahassee, FL 32399-3255
Board Office
8:00 a.m. to 5:00 p.m. ET
Phone: (850) 245-4373
FAX: 850-414-6860
Why Be a OTA in Florida?
In addition to Florida being the beautiful sunshine state that it is, there are many great reasons that an OTA would want their career in Florida, here are a few:
More OTA Info for Florida: