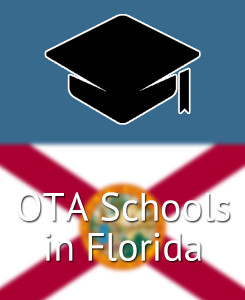 Florida has 2 ACOTE accredited OTA to OTR Bridge Programs.
Completing an accredited OTA bridge program earns you both a bachelor's and masters degree.
It is also necessary in order to take your OTR exam administered by the NBCOT which you need to pass to get your state OTR license.
Below you will find details on available bridge programs in FL.
See OTA Bridge Programs by state
List of OTA Bridge Programs in FL
Barry University in Florida
This program is offered full time over the weekend and is tailored to working adults. Applications are due April 1st and the program begins in late August.
Learn more: http://www.barry.edu/occupational-therapy/; (305) 899-3213
Keiser University – Fort Lauderdale in Florida
The program utilizes instructional delivery that is both campus based and hybrid. Students will experience, didactic, face to face, and clinical work.
Learn more: (954) 776-4456 x313; mgraczkowski@keiseruniversity.edu (Marek Graczkowski, EdD, MHSA, OT/L)
More OTA Info for Florida: