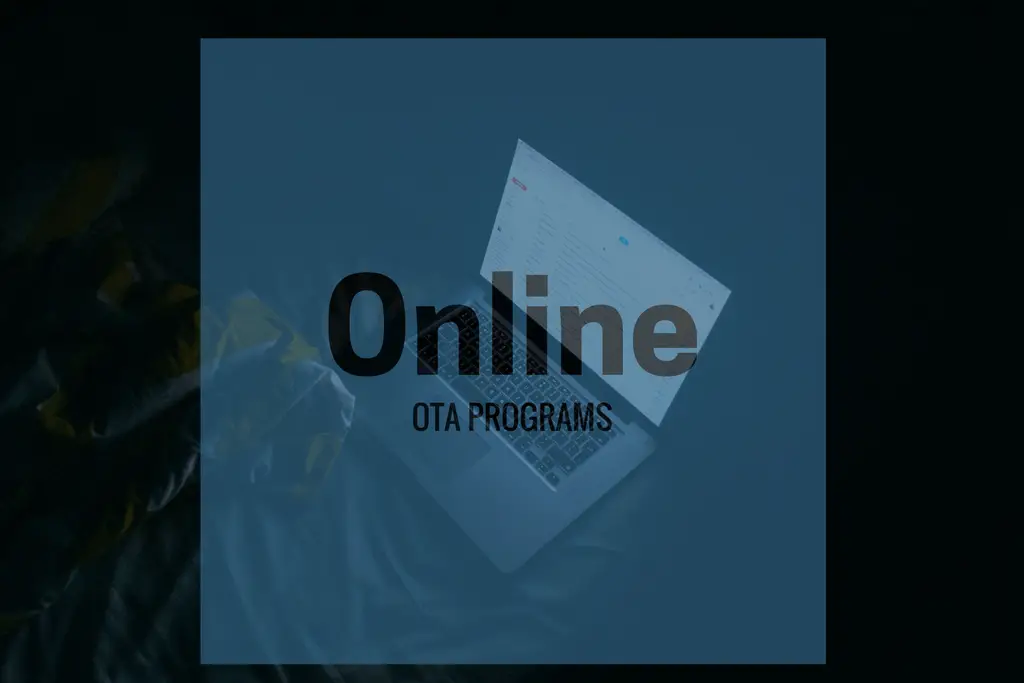 Nowadays studying online is an option for many degree programs. Even in healthcare, you can complete a good portion of your degree plan online.
A number of online OTA programs are offered to help students preparing to become a COTA achieve their necessary associate degree in occupational therapy assisting.
If you are thinking about getting your OTA education online, then there are some important considerations that you should be aware of when making this decision.
Today we are going to go over what you should expect in studying to become an OTA online and compare that to studying at a traditional OTA program.
After reading this, you will know the different expectations in studying an online OTA program versus a traditional program and which educational route would best suite your needs.
This is a long post so feel free to use these links to jump around to the different sections:
Online OTA Programs Aren't 100% Online
The first and most important consideration when researching online occupational therapy assistant programs is that 100% of the program will not be offered online.
It just isn't possible to offer fieldwork, hands-on training that is required under the 25% clinical trial requirement for OTAs, through the internet. This type of training requires working in a real clinical setting.
Occupational Therapy Assistant educational requirements consist of 25% clinical practice. This means that 75% of an online OTA program will be offered through the internet, and the remaining 25% will be delivered through a local clinic.
This really shouldn't come as a surprise, as you know OTAs spend their days performing hands-on work with clients, they don't sit behind computers. So, although it may be efficient to study text online and learn theories, ultimately you will need to practice what you learn in a real setting.

This requirement is not just to get your OTA degree but also to make sure you will be a great OTA after you graduate!
Completing Fieldwork & Getting Hired
When researching your options to study online you want to make sure that the program will offer some guidance on completing your fieldwork requirement and finding a job.
You wouldn't want to invest your time and money studying online and not have a plan to complete your degree requirements or find a job at graduation!
Here are a few things to consider when reviewing online OTA programs:
Ask the admissions counselor where they offer labs for lab work so that you ensure you will be able to complete this portion of your degree requirements
As the admissions counselor if they will help place you in a clinical setting for your fieldwork requirements
Find out if they offer job placement services after graduation, after all, one huge benefit to studying at a local program is your networking opportunities to find a job at graduation
St. Catherines offers an online OTA program that will help you complete your fieldwork and they have labs in multiple locations in Virginia. If you're in VA, then this may be the school for you.
About St. Catherines Online OTA Program
About Their OTA Level 1 & 2 Fieldwork

If you're in VA, checkout St. Catherines. If you aren't in VA then make sure that you find an OTA program that will ensure you complete your fieldwork and assist you in finding a job.
Schools Offering Online OTA Programs
It is becoming increasingly common that schools are offering OTA programs online. The AOTA actually only lists 2, out of a total of 200+ colleges, that offer online programs, however, this is out of date.
There are at least a dozen schools now that offer online courses for OTAs. The best advice for finding out if a school offers online courses is to contact the school you are interested in and ask them.
However, we've done some research and we found the following list of schools that offer online OTA courses:

It is important to note that each year more and more colleges are launching online OTA coursework. So, it is worth reaching out to colleges in your area that you're interested in to see if they offer online classes or plan to in the near future.
Differences Studying Online VS Classroom
Are you introverted? I am and I can tell you that I thrive studying on my own, so online coursework is my cup of tea.
But, if you're extroverted, then you may HATE online studying and not being able to interact with your professor and classmates.
Introversion and extroversion are not the only factors to take into consideration but that was one example. You should consider the following when you are deciding between studying online or in the classroom:
Your personality type
Your study habits
Your schedule and availability
Your timeline and education objectives
Your need for face to face interaction with your professor
Your ability to teach yourself concepts using only a text book
It is really important to think about all of this before deciding on your educational route. Some people think that online classes are "easier" but this really is not the case. In fact, I'd argue that they are harder.
Simply because you will be responsible for setting your schedule, taking your quizzes/tests, and studying on your own. No one will be watching over you, encouraging you, or offering to study with you.
Just think all of this through and make sure that if you do choose to study online it is for the right reasons and you will be well prepared to succeed.
Here are a few scenarios where I think an online OTA program would be a great option for someone:
You have a full-time job that prevents you from taking traditional classes during the day
You take care of kids at home that prevents you from going to school during the day
You own an at home business that requires you to be home during the day
You're a responsible introvert that just wants to study in peace

In each of the above scenarios, I think that studying for your OTA degree online would be a great option.
Logistics of Online OTA Courses
If you enroll in an online program then most likely you can expect to access all of your course information in an online portal.
The portal will often have most, if not everything, you need including:
administration information
complete course syllabus
course curriculum for the semester
course schedule/pace for the semester
access to online text books or info on books you need to purchase
coursework and assignments
quizzes and projects
tests and final exams
assignment grades and GPA scores
You should expect to set your own study schedule and have your own location to study in. You will need internet access and a computer (and probably some coffee!). Depending on the course you may be required to purchase a physical textbook as well.
Most of your communication with your professor will be through email. Some professors offer online video office hours or if you're in the same town you may be able to visit in-person office hours.
Many classes will have some sort of group discussion forum where classmates can interact online and share their thoughts on various topics.
General Comparison Between Online VS Classroom Studying
The above video is not specific to OTAs but it is a great comparison between studying online versus in a classroom. If you need to feel engaged and have others to work with, then studying in a classroom is the route for you.
If you have a strong independent personality and don't need engagement or encouragement to get your studying done, then you may really enjoy the freedom, flexibility, and independence offered through online classes.

Additionally, for those with kids, a job, or a difficult schedule for another reason may require the flexibility that an OTA programs offered online can provide.
Pros and Cons of Getting Your OTA Degree Online
Ok so we've gone over quite a bit of info so far, it makes sense to look at a list of the Pros versus the Cons of getting your OTA degree online versus in the classroom.
Looking at the Pros versus the Cons will make it much easier to make your decision, here they are:
PROS
Flexibility – you can manage your own schedule and adjust the times you study to your needs.
Technical Advantage – you may get a slight technical advantage learning to use technology such as video conferencing or online learning modules that provide valuable skill in your career.
Reduced On-Campus Expenses – Expenses for campus parking, room and board, cafeteria and more are avoided. Plan to pay tuition and costs for textbooks.
CONS
Not for Everyone – Not everyone will have the right personality type to study on their own and teach themselves concepts.
Lower Value – I don't personally agree with this, but a 2009 study showed that online degrees were perceived a bit negatively as if they had less value when reviewed by recruiters.
Options are Limited – Not every school will offer online programs so your options for where you pursue your degree from will be limited.
After reading a list of pros and cons, if you are leaning toward studying online versus in the classroom, then here is a list of things you need to consider:
Studying online is not easier
Identify your learning style
Get familiar using technology
Plan a study calendar
Keep engaged with your coursework
How to Survive Online Courses
If you think studying online is for you then you will need to be self-motivated. Here is a great video that discusses how to survive online courses.
Here are some important notes from the video:
Stay motivated, you will have to keep your mental attitude positive and motivated.
Don't put off your lessons until the last minute, you should try to keep a consistent schedule for studying and taking care of your assignments
Wake up consistently and try not to sleep in, if it helps get out of your house and exercise in the morning then come back and study
I would equate a work from home job to an online college degree program. Basically, if you are the type of person to consistently wake up and take control of your day and complete all your work tasks from home without having a boss or someone give instruction, then you will dominate online coursework.
However, I think that most people would do better with a schedule set for them and a professor to keep track of their attendance, efforts, and assignments. Most people will perform better under this system than with the freedom of studying online.
Over to You
Ultimately it will be up to you to decide whether or not getting your OTA degree online or in the classroom is best. Now at least you have the info to help you make your decision.
The main reasons I chose to study online were that I could avoid on-campus expenses and have flexibility with my schedule. I'm introverted, extremely independent, and very disciplined when it comes to studying so this path worked out well for me.
However, it is definitely not for everyone. I watched some of my peers fail with their online studies by not scheduling enough time to study or not learning to use their online systems well.
I think most people would do better in a traditional classroom setting as they will have more accountability to study, a set schedule to adhere to and be engaged while learning concepts.
However, there are plenty of scenarios where someone may not be able to attend a regular class and would require learning online in order to get their education. For these folks, I definitely recommend looking into some online OTA programs.
If you are interested in studying online, then you can learn more about online OTA programs here or you can research and compare local accredited OTA schools here.
---
Did you study occupational therapy assisting online? Tell us about your experience in the comments below!