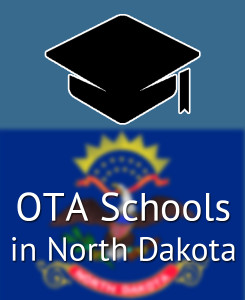 North Dakota currently only offers 1 ACOTE accredited OTA program. Passing an accredited OTA school and passing the COTA Exam by the NBCOT are both required to get your state OTA license.
Below you can learn more about North Dakota's OTA Schools, click to learn more details and get contact info.
More OTA Info for North Dakota:
See OTA Programs Near Me
See Online OTA Programs
Accredited OTA Schools in North Dakota
North Dakota State College of Science OTA Program
Physical Address
Occupational Therapy Assistant Program
Mayme Green Allied Health Facility 800 North 6th Street Wahpeton, ND 58076-0002
Phone Number
(701) 671-2982
Website Address
www.ndscs.edu/
OTA Program Contact
elizabeth.schlepp@ndscs.edu
OTA Program Accreditation
Program Accreditor
The Accreditation Council for Occupational Therapy Education (ACOTE)
Selecting OTA Schools in North Dakota
Remember the following when comparing OTA schools in North Dakota:
College, program, and class size
Graduation and COTA Exam pass rates
Quality of campus, buildings, labs, and resources
Detailed expenses and financial aid offered
Specific admissions criteria
Two of the most helpful sources of information when researching OTA schools are alumni and employers. Ask the admissions offices at the schools that you are interested in to put you in touch with local businesses that hire their graduates so you can survey alumni and their employers about the colleges you're considering.
More OTA Info for North Dakota:
Click on schools below to learn more about their programs
[qs_listing areaofinterest="PHYSICAL-THERAPY-ASSISTING"]